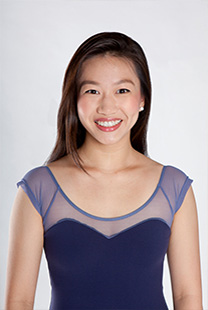 Gladys started her classical ballet journey at the young age of 6 and now holds a Diploma in Dance from the Nanyang Academy of Fine Arts (NAFA). While in NAFA, she had the opportunity to attend different summer schools and exchange programmes both locally and internationally, with renown schools such as Annette Roselli Dance Academy in Queensland, Australia.
Apart from classical ballet and pas de deux, Gladys is also trained in contemporary, contemporary on pointe and jazz under professional dancers and teachers such as Dr Caren Carino, Mr Michael Teichmann, Mr Aidan Munn and Ms Madeleine Milne.
To further refine her skills after graduating, she enrolled into the full-time programme at Terry Simpson Studios in Adelaide, South Australia, where she spent a year before returning to Singapore. Whilst with Crestar School of Dance, Gladys successfully attained the Royal Academy of Dance (RAD) Advanced 1 Vocational certification.
Gladys aspires to groom her students to be better people, with not just love for dancing, but also an enriching life that is led by endurance, determination and resilience.